With Thanksgiving just days away a lot of us are rummaging through our closets or hitting up the mall for some last minute pieces to pull together the perfect look for this Thursday! Take note that red tones are definitely trending this season, and you can also never go wrong with earthy hues during the Fall season. Thanksgiving is also a day you may want to stay away from clothes that are extra tightly fitted. Now whether you're throwing it down in the kitchen or just pulling up a seat when dinner is served, no one wants to be in the family albums looking crazy. With this in mind, EGL Fashion has found some "Go-To" looks you can use as inspiration while putting together a fit' for the biggest holiday of the year!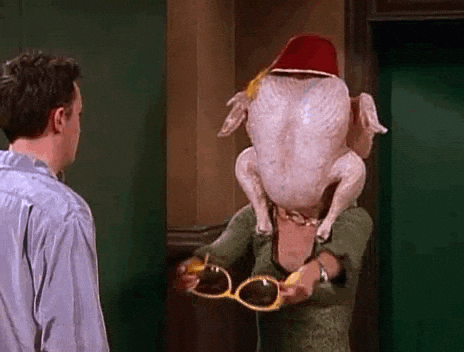 Casual & Cozy: Not everyone wants to get all dolled up for turkey day. Some of us are under the pressure of getting dinner done and entertaining guests at the same dang time! This calls for a look quick, easy, and most of all comfortable. Think flats, jeans, and layering up top which in turn will help to combat those warm kitchen temps! Not to mention it'll be the perfect look to hit up the Black Friday sales in!
Photo Credit: Smart Closet Retrieved from https://smartcloset.page.link/BtN8eU1zEFbfmTfA8 on November 18th, 2018
Day To Night: Okay, so maybe you're not the head chef for Thanksgiving night but you may be doing some assisting. Therefore you will need that style that will take you from day to dusk effortlessly. A low-mid heel will make being on your toes all day a breeze, and a skirt or sweater dress is a fun way to be festive without going overboard.
Photo Credit: Smart Closet Retrieved from https://smartcloset.page.link/EGXpVy7tch9m73H69 on November 18th, 2018
For Dinner and Beyond: Are you that person who shows up right before Thanksgiving dinner is ready; dressed to the nines but put in no kitchen time? If you are doing the bare minimum this holiday season may be looking good trumps being comfortable. Oversized coats, animal prints, and fedoras are 3 Fall trends bound to set off any look!
Photo Credit: Smart Closet Retrieved from https://smartcloset.page.link/JJs3dEMfcBX1Z8Gn8 on November 18th, 2018
So what will be your vibe this Thursday for Thanksgiving dinner? Let us know in the comments below!
Written By: Dani Elle Moore | StreetChicTV.com